Along with showers, April brought exciting new features to the LinkSquares Cloud! With the newly expanded LinkSquares API, you can integrate virtually any system with LinkSquares Finalize. Plus, enhancements allow seamless collaboration in the Finalize App for Word and additional flexibility when creating agreements in Finalize.

Read on to see a complete list of what's new.
Now available: Finalize API
Connect virtually any system to Finalize via the LinkSquares API.
Tired of managing agreement requests by email or in a spreadsheet? Let your technology do the work by connecting your CLM with the tools your teams rely on.
Integrate Finalize with third party systems and empower teams like procurement and sales to draft, request, and track their agreements directly from their vendor management system or CRM — saving you time and headaches.
Finalize API: Now available in the LinkSquares API.
Collaborating on contracts in Finalize for Word just got easier.


Highlight text, add comments, and create approvals without ever leaving Word. Now, when reviewing an agreement in Word, you can highlight parts of the agreement, leave a comment for a peer, or create tasks and approvals. These actions are captured in the activity feed (never in the document), so there is no risk of the counterparty seeing it.
Highlight and Assign Text: Now available in the Finalize App for Word.


Seam

lessly work on agreements alongside your team with Live Editing.

See the changes others are making as they happen, and get real-time notifications when a new version of an agreement is uploaded. You'll save time knowing you're always reviewing the latest version.




Live Editing: Now available in the Finalize App for Word.
View all your tasks, across all agreements, in the Finalize App for Salesforce.
A new aggregate tasks view gives Salesforce users visibility into all their tasks across all their agreements within the Finalize App for Salesforce. Stay on top of your to-dos to ensure nothing falls through the cracks.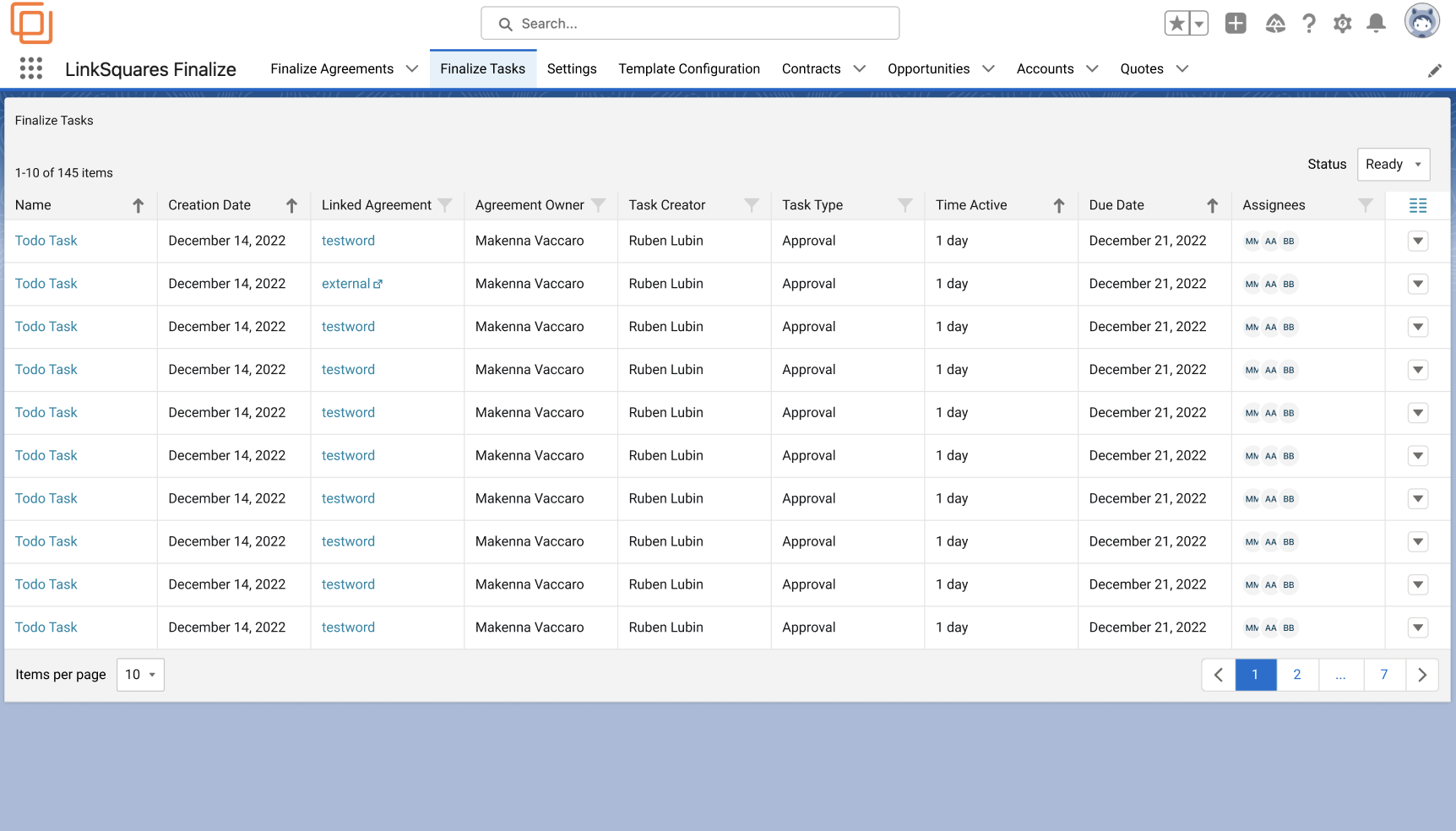 Aggregate Tasks View: Now available for the Finalize App in Salesforce.
Save custom filters to find the agreements you need, faster.
Save different filter combinations as "Views" in Finalize, and reuse them with the click of a button. In doing so, you and your team will save time, finding the agreements you need to review quickly.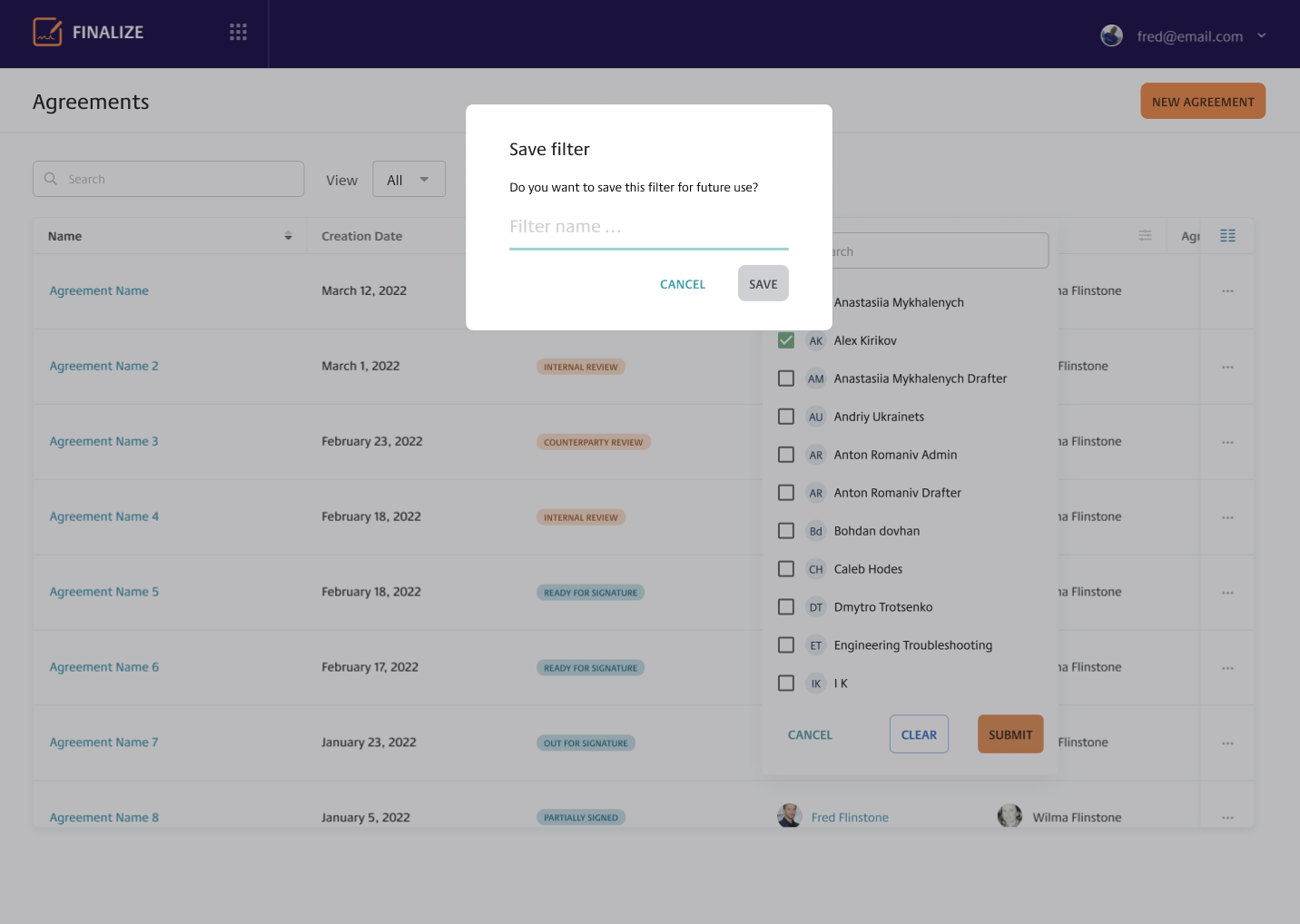 Saved Filters: Now available in Finalize.
Edit agreement owners from the index page.
A recent enhancement to Finalize allows you to change the agreement owner directly from the index page, saving time and eliminating excessive clicks.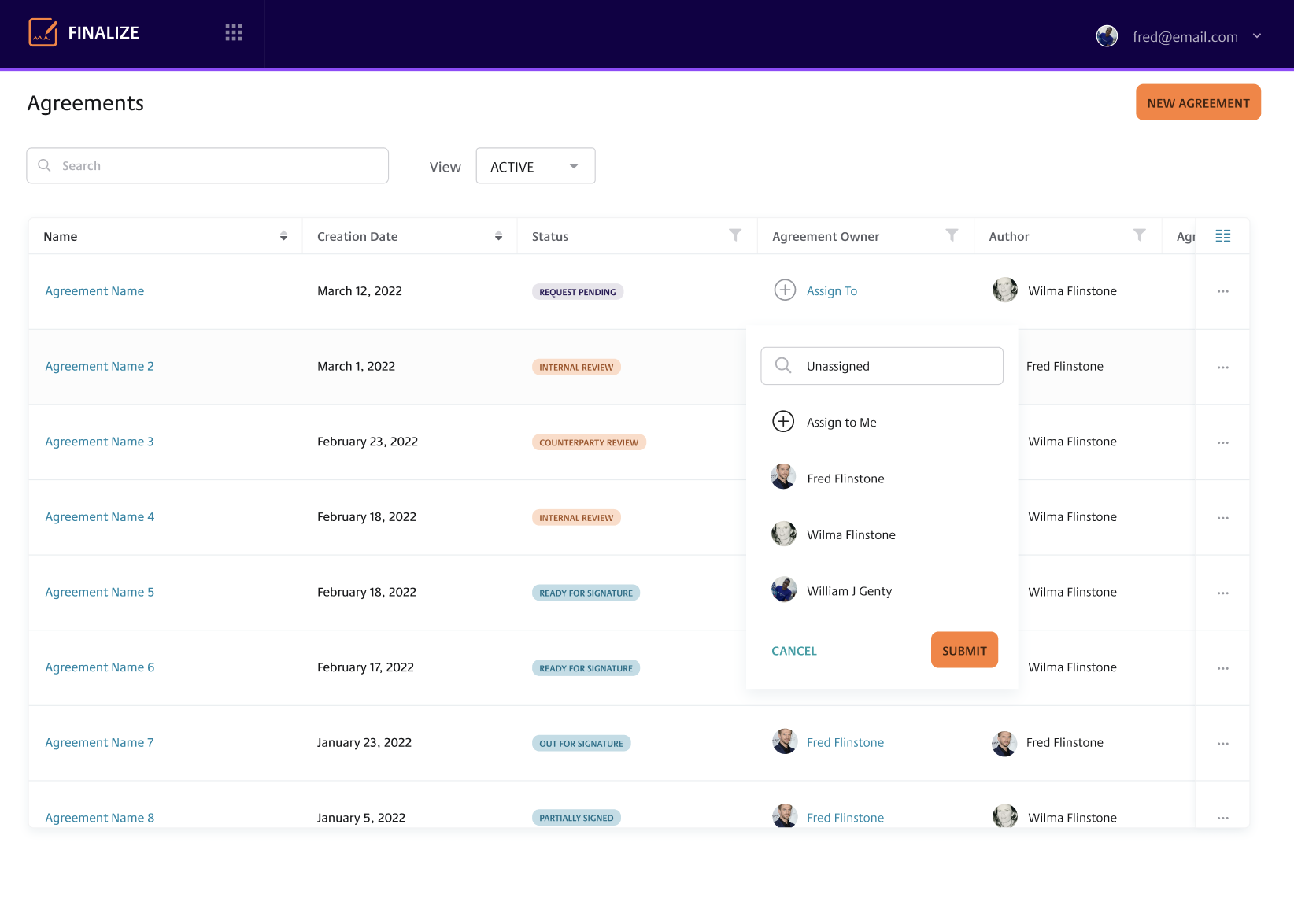 Agreement Ownership: Now available in Finalize.
Create tasks for request templates.
Dynamic Tasks allow admins to include conditional tasks at the template level for request templates, instead of manually adding them after an agreement is created. This saves time on agreements, and you can easily include the appropriate parties as needed and get contracts to signature faster.

Dynamic Tasks for Request Templates: Now available in Finalize.
Automatically include collaborators on agreements.
Finalize administrators can now add default collaborators to any template. Collaborators will be automatically given visibility into an agreement when it is generated, further streamlining the contract process.
Default Collaborators: Now available in Finalize.
Subscribe to the LinkSquares Release Roundup
Get the most out of your CLM and stay up to date on new product features and enhancements to the LinkSquares platform.