Spring has sprung! As we usher in a new season, LinkSquares is setting you up with a host of new features that will help you manage your contracts with ease. New features offer better visibility into your Finalize agreements, advanced Signature Request enhancements in Sign, and a new version of Pricing Tables in the Finalize App in Salesforce.
Let's dive in!
Include multiple attachments in a signature request.
There are often multiple contractual agreements that outline the expectations of a partnership or professional engagement. You can now include multiple agreements in a single Signature Request with LinkSquares Sign.
Select existing attachments or upload new ones to include in a single Signature Request. All fully signed agreements and attachments are then stored together in Finalize and Analyze.
Signature Request Attachments: Now available in Sign.
Distinguish between new agreements, new versions, and new requests every time you log in.
When you're managing multiple agreements in Finalize, it can be hard to tell which agreements need attention. Which agreements are new? Which are new versions?
To help, we've introduced agreement flags in Finalize so you can see what has changed across your agreements since your last login. With indications for new agreements, new versions and new requests, you'll be able to prioritize contract review faster than ever.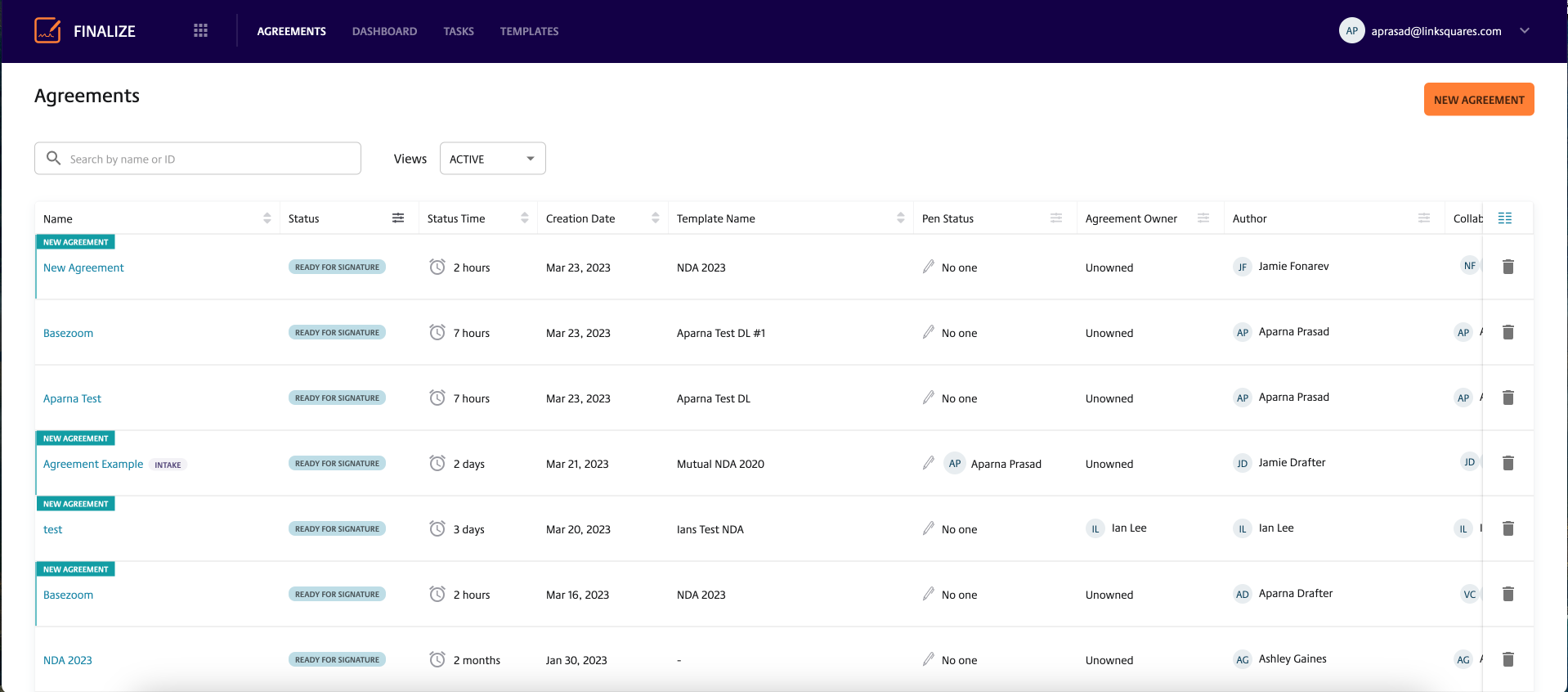 Agreement Flags: Now available in Finalize.
Ensure a single answer to template questions.
Setting up multi-select tokens can be risky and error prone if a drafter accidentally selects two options (despite instructions that indicate otherwise).
With single select tokens, Admins can set up token questions whose responses can only be one answer choice. This prevents mistakes during the contract creation process, ensuring only one answer choice can be selected from the drop down list.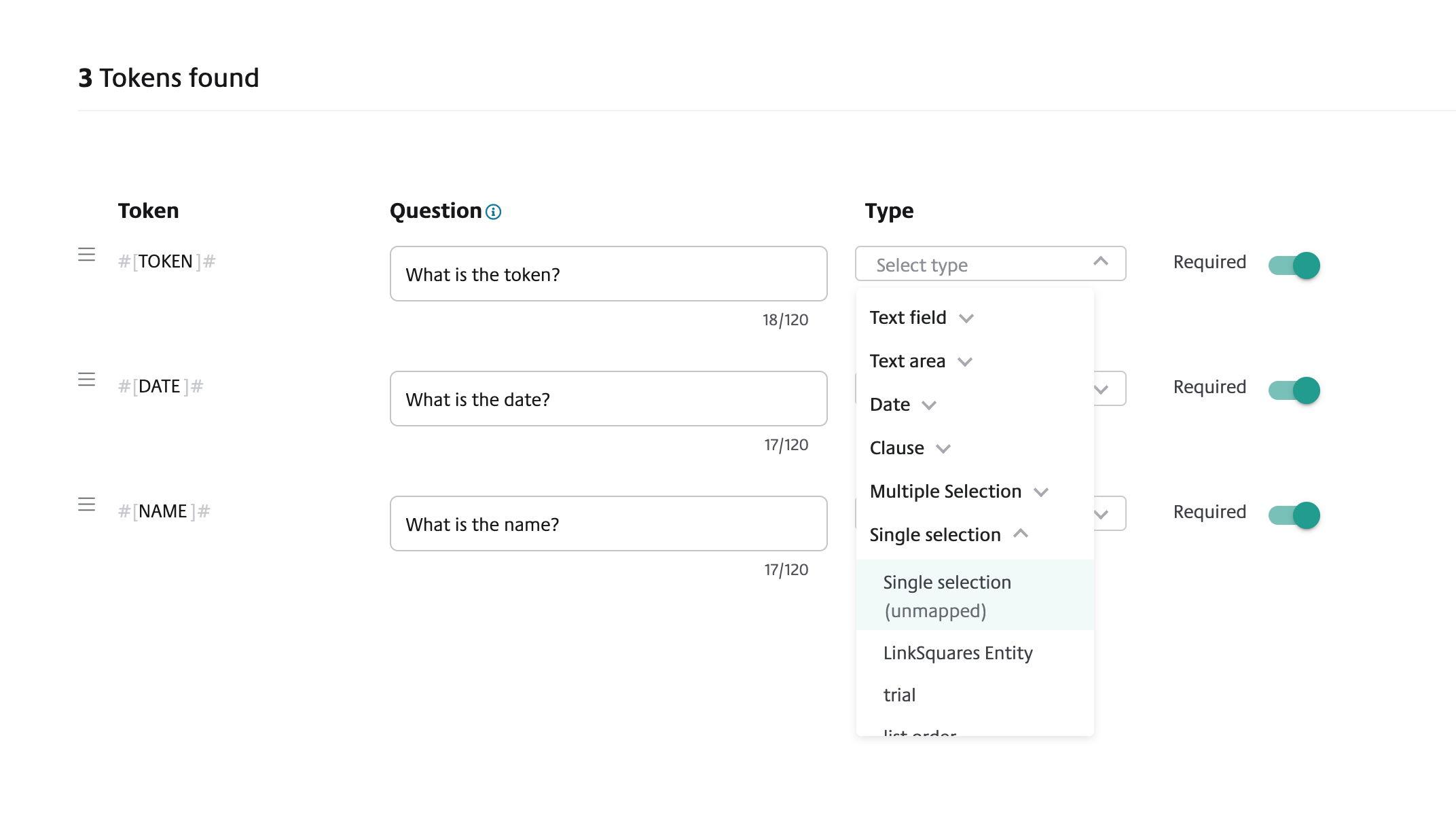 Single Select Tokens: Now available in Finalize.
Track the total number of versions of agreements, allowing you to easily monitor bottlenecks.
It can be challenging to determine which agreements are experiencing delays or have received numerous iterations from the other party. This results in agreements being stuck in the redline stage for an extended period, impeding advancement.
Agreement Version Numbers eliminate this confusion. They eliminate any ambiguity and enable you to identify agreements that are facing delays, allowing you to step in and expedite their completion.
Agreement Version Numbers: Now available in Finalize.
Specify who can send agreements through LinkSquares Sign.
Allowing anyone to send an agreement out for signature can open up the possibility for unfinished agreements could find their way to execution.
With Signature Request permissions, Admins can control who can send agreements through LinkSquares. They can customize default settings and grant access to specific users.
Signature Request Permissions: Now available in Sign and our eSignature integrations.
Get more out of pricing tables with increased flexibility and functionality.
Building Pricing Tables in agreement templates can be a lengthy set-up process. In addition, there's limited flexibility for filtering or totaling tables, requiring manual workarounds. These restrictions limit the overall flexibility of Pricing Tables.
Enhancements to the Pricing Tables in the Finalize App in Salesforce will enable Salesforce Admins to configure Pricing Tables within templates. Full functionality includes:
Configure how a template's table will sort when it's generated

Configure a template's table to filter

Automatically total values in tables based on filters (without having to create a formula field)
Enhanced Pricing Tables: Now available in the Finalize App for Salesforce.
Subscribe to the LinkSquares Release Roundup
Get the most out of your CLM and stay up to date on new product features and enhancements to the LinkSquares platform.