It's that time again when we gather around the digital campfire to recap this month's features across the LinkSquares Cloud. In May, we introduced our new legal intake solution, Prioritize, which takes us beyond the core CLM, while releasing groundbreaking functionality that supercharges our current offering from Finalize, to Analyze and beyond.
So buckle up, and let's embark on this month's releases!
Introducing LinkSquares Prioritize, one place to track and manage all your daily tasks
No more sifting through emails, messages, and notepads to find and track requests and questions from across the business. With a task management tool designed for in-house legal teams, you can:
Automate legal intake and track incoming requests in real time

Centralize legal requests, documents, and approvals in one place to keep projects moving

Monitor your team's workload to understand what's getting done and by who
Learn more about Prioritize and join the waitlist for Early Access!
Automate and streamline your contract creation process with Dynamic Language
You asked, we delivered! Dynamic Language helps legal teams create fewer templates, so that template management is easier, and contract creation is faster. Automatically incorporate the right language into agreements every time, without any back and forth with legal. And the best part? There's no fancy code required to set it up; anyone can do it!
Dynamic Language: Now available in Finalize.
Supercharge agreement reporting with a singular, enhanced experience
Less is more, so we've officially sunset the "Reporting" tab in Analyze and have rolled out several enhancements to ensure a top-notch reporting experience on the main agreements page:
Toggle between "Agreement Name" and "Content" to easily control your search

Agreement Type and Tag filters are now accessible in the main navigation bar

New tool icons offer a sleek way to complete actions across your agreements

A new content search type, Partial, allows you to find what you need faster with greater flexibility in your search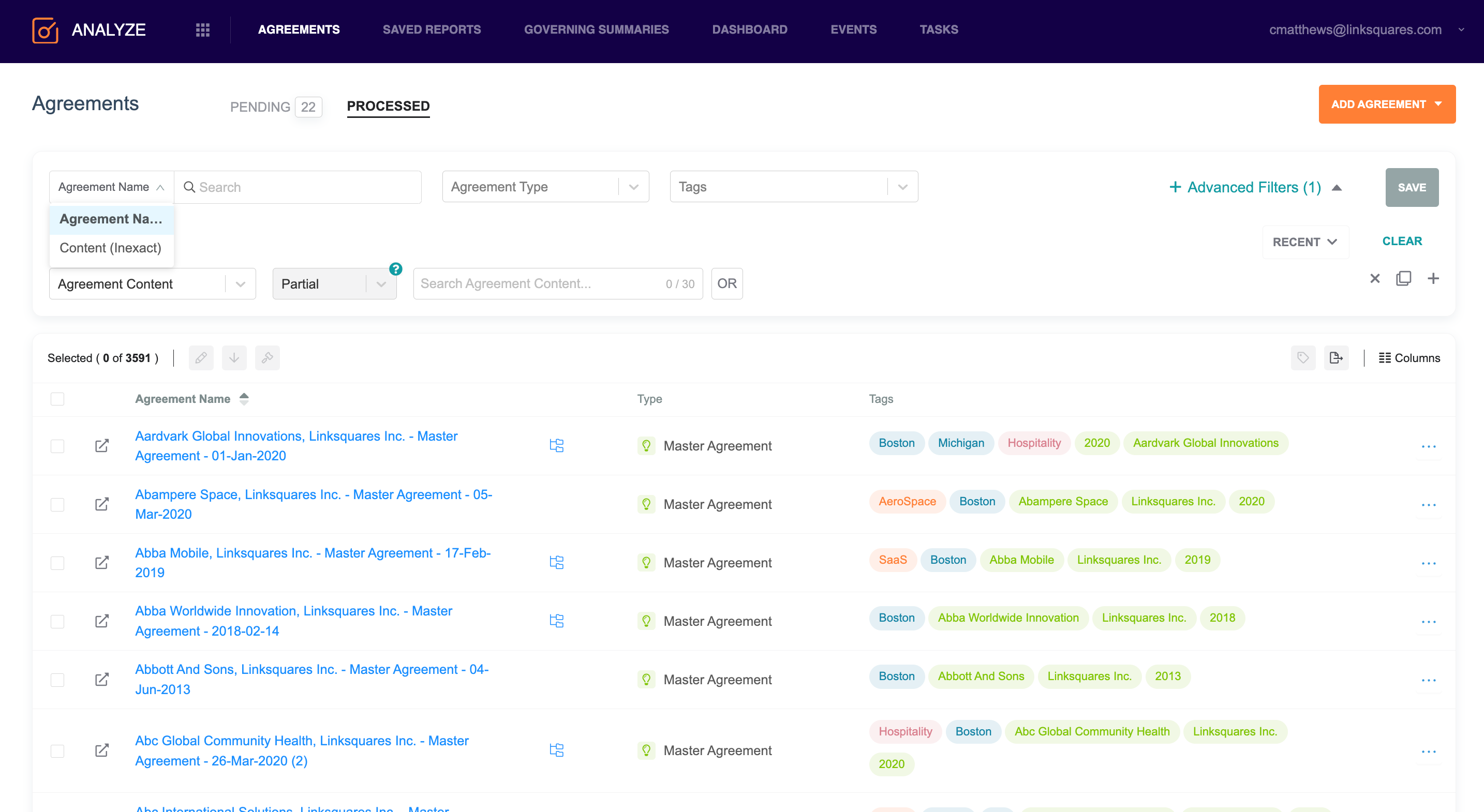 Agreement Page Enhancements: Now available in Analyze.
Enjoy an uninterrupted workflow by staying logged in to Finalize from Microsoft Word
We heard you: you love using the Microsoft Word integration, but you want to stay logged in so you can work uninterrupted. Microsoft SSO for the Word Add-In hits the nail on the head: once set up, it guarantees that you will not get logged out of Finalize, and you'll save time by continuing to work from where you left off.

Microsoft SSO for the Word Add-In: Now available in the Finalize App for Word.
What if you could see who last updated a template in Finalize and when?
Now you can! Use the new "Updated By" User and Date fields to identify templates that have been updated and those that have not. Easily reach out to your peers to make the appropriate updates as needed, and you're done.
"Updated By" User and Date: Now available in Finalize.
Flexibly create "Our Paper" templates without tokens
Setting up your customized workflows in Templates continues to get easier. Customize your workflows and create "Our Paper" templates without tokens while ensuring that template reporting remains accurate.
Our Paper Templates with No Tokens: Now available in Finalize.
Want to learn more about the LinkSquares Cloud? Check out the new LinkSquares Academy!
Whether you're an expert on the platform or just starting out, we're creating educational content that'll help you get the most out of LinkSquares.
Our first courses, LinkSquares Analyze 101, Finalize 101, and Sign 101 are live today! For anyone who is new to LinkSquares, or looking for a refresher on the basics, these courses will give you a high-level overview and pave the way for a deeper dive.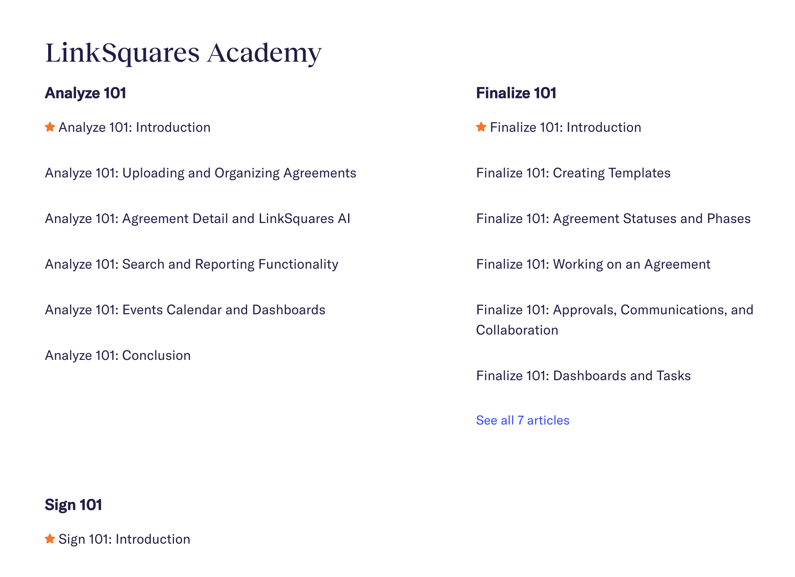 LinkSquares Academy is now live in our Knowledge Base. Stay tuned as we launch more content.
Subscribe to the LinkSquares Release Roundup
Get the most out of your CLM and stay up to date on new product features and enhancements to the LinkSquares platform.