October's Release Roundup brings you no tricks, but all sorts of treats across the LinkSquares Cloud. From Dashboards in Prioritize to new user roles across the entire suite, the only thing scary about this edition is the sheer amount of new functionality at your fingertips.
So sit back, break out some Halloween candy, and take a look at all the new enhancements.
What's new in Legal Project Management?
Visualize and report on your team's impact with new Dashboards in Prioritize.
Access to data is critical for a modern, efficient legal team. But gathering the relevant, accurate data you need to make informed decisions is easier said than done.
LinkSquares Prioritize now includes dashboards so you can monitor and report on your team's workload and compile the data you need to improve processes and make strategic decisions. Find the info necessary to stay on top of workloads, identify roadblocks, prove your team's business impact, or even make the case for additional headcount.
Receive instant access to key metrics with pre-configured dashboards, drill down with filters, or export the data for ad hoc analysis.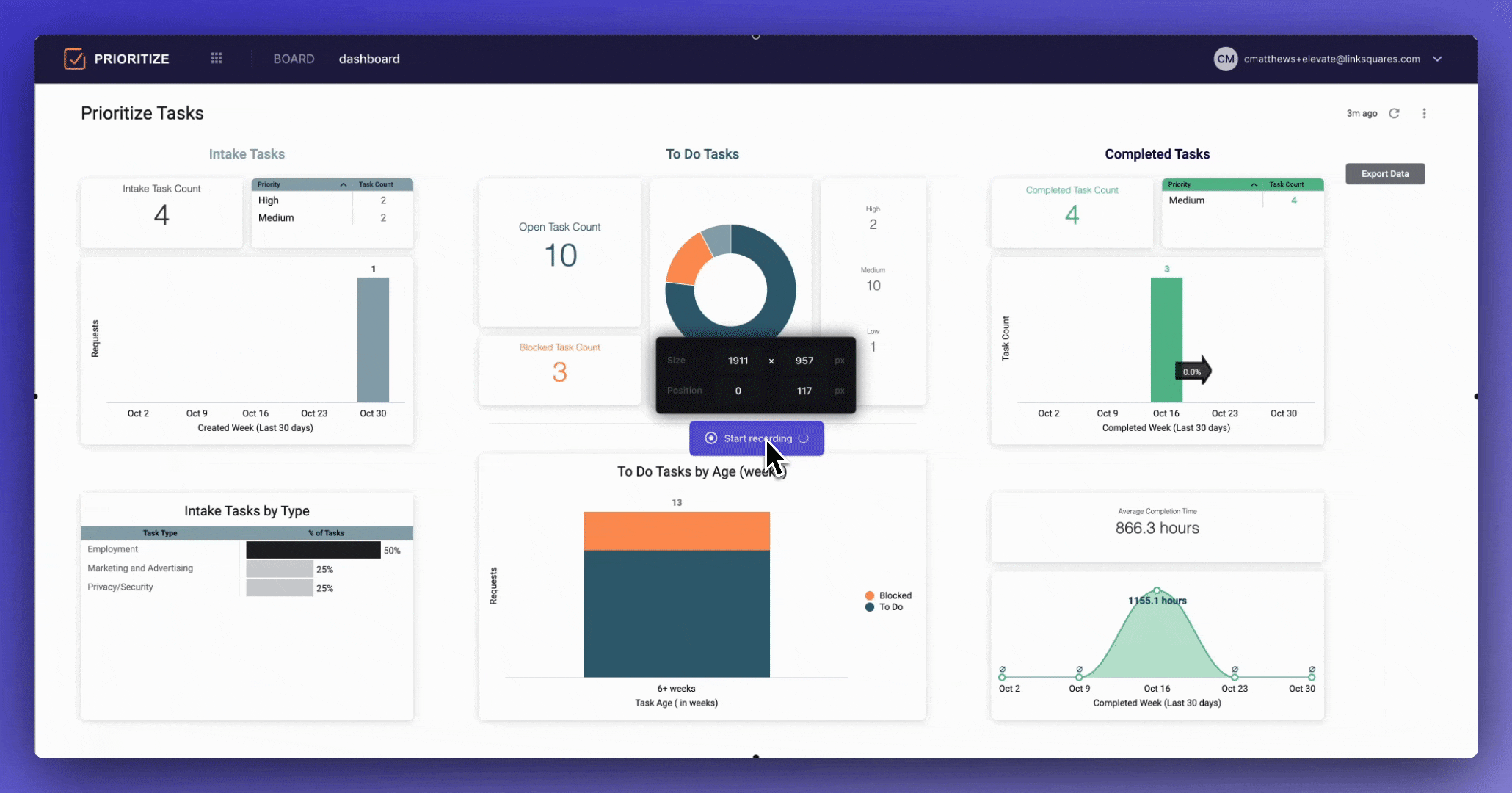 Prioritize Dashboards: Now in Beta. If you'd like to be considered for beta access, contact your CSM.


New user role streamlines user access and permissions.
Plus, customize your Prioritize Board to fit your workflows.
Customize column names to match your existing processes
Reorder tasks in a column to prioritize your to-dos
Want to see Prioritize in action? Schedule a demo or join our webinar on 11/16 to hear how the LinkSquares legal team is using Prioritize.
What's new in Contract Lifecycle Management?
Sort your language by similarity.
Similarity Terms brings a new level of custom tracking to Analyze. Now, take search a step further by ranking terms in order of likeness. Easily assess where the language is a near match or has a lot of variability, and use it to make the decisions you need.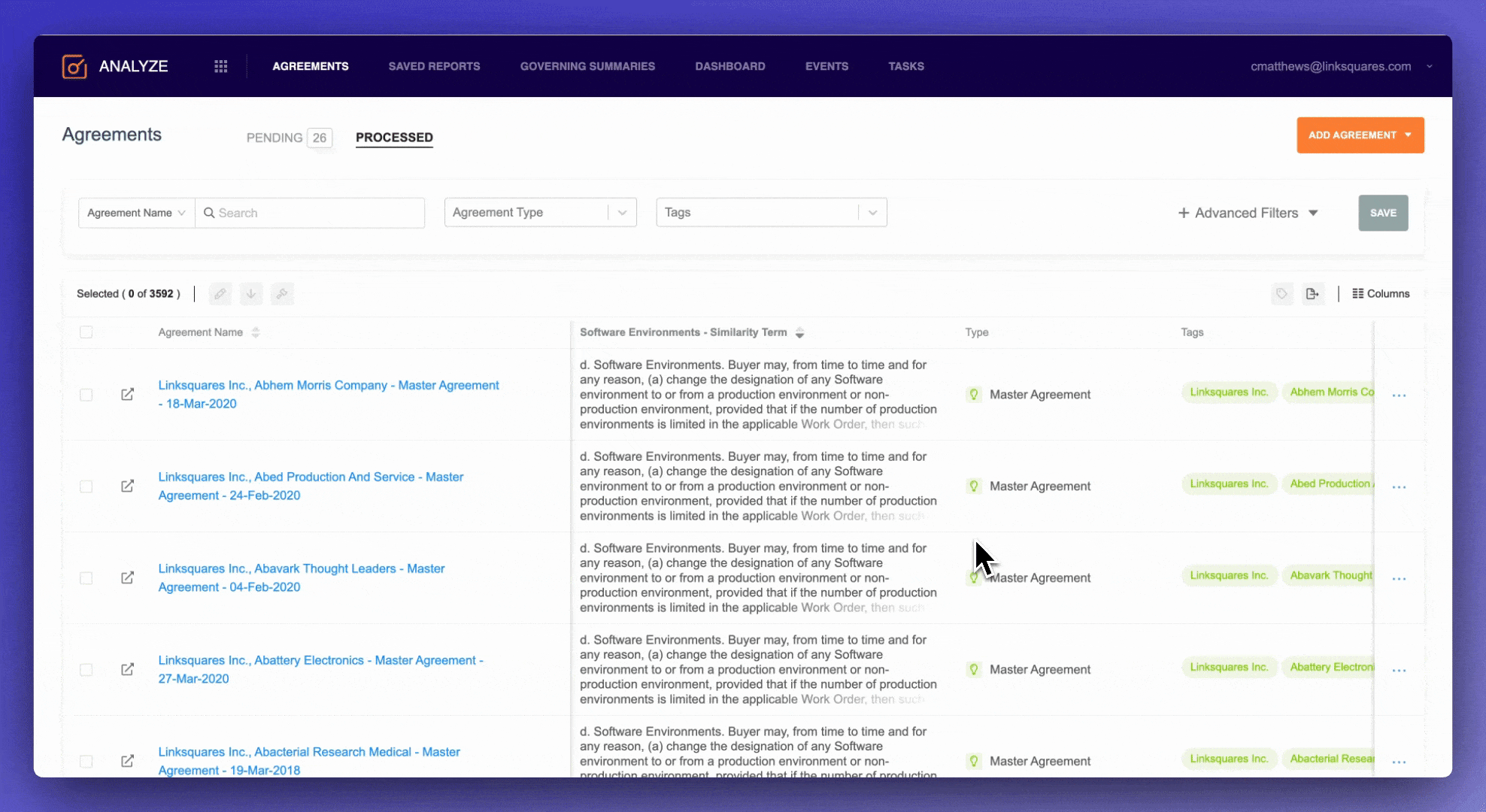 Sort by similarity: Now available for users with Similarity Terms enabled. Interested in activating this feature in your account? Speak with your CSM today.
Set tasks to recur on a cadence that works for you.
We know you have critical tasks that require reminders more than just once a year - think about submitting reports and completing audits. Now, Analyze tasks can be set to recur annually, semi-annually, monthly, weekly, every two years, or even every three years. Once the task has been completed, a new, identical task with a due date in accordance with the recurrence automatically populates. You'll never miss a deadline again with this enhanced flexibility.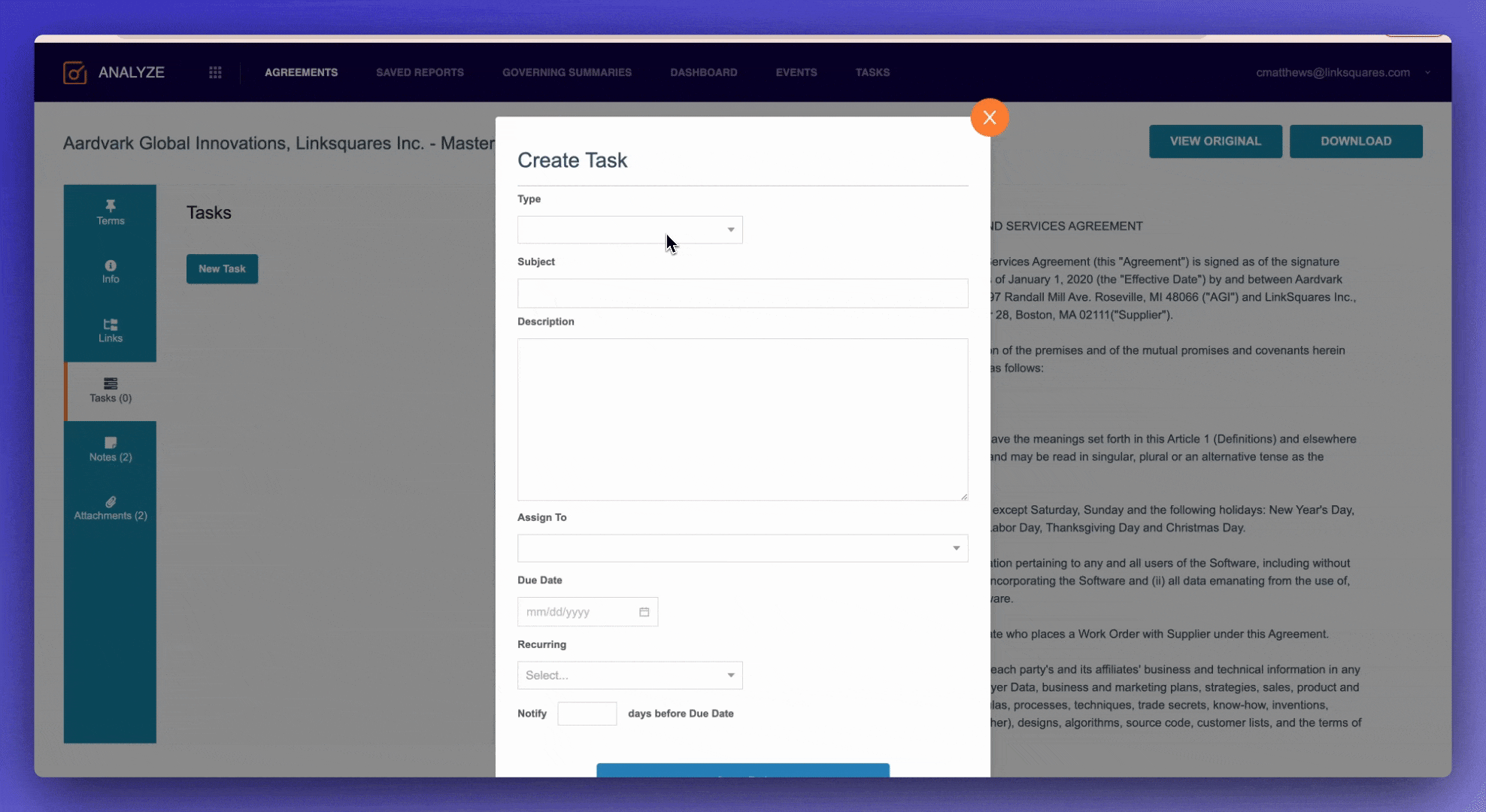 Customize Task Recurrence: Now available in Analyze.
Access agreements in Salesforce from email notifications.
Salesforce users can now access their contracts in Salesforce right from their inbox. No more switching windows – just click "view in Salesforce" and you're there!
Now available with Finalize for Salesforce.
Want to learn more about the LinkSquares Cloud? Check out the new LinkSquares Academy!
Get the most out of LinkSquares with The LinkSquares Academy, our new educational platform that offers product overview courses, on-demand spotlight webinars, monthly release notes, and more.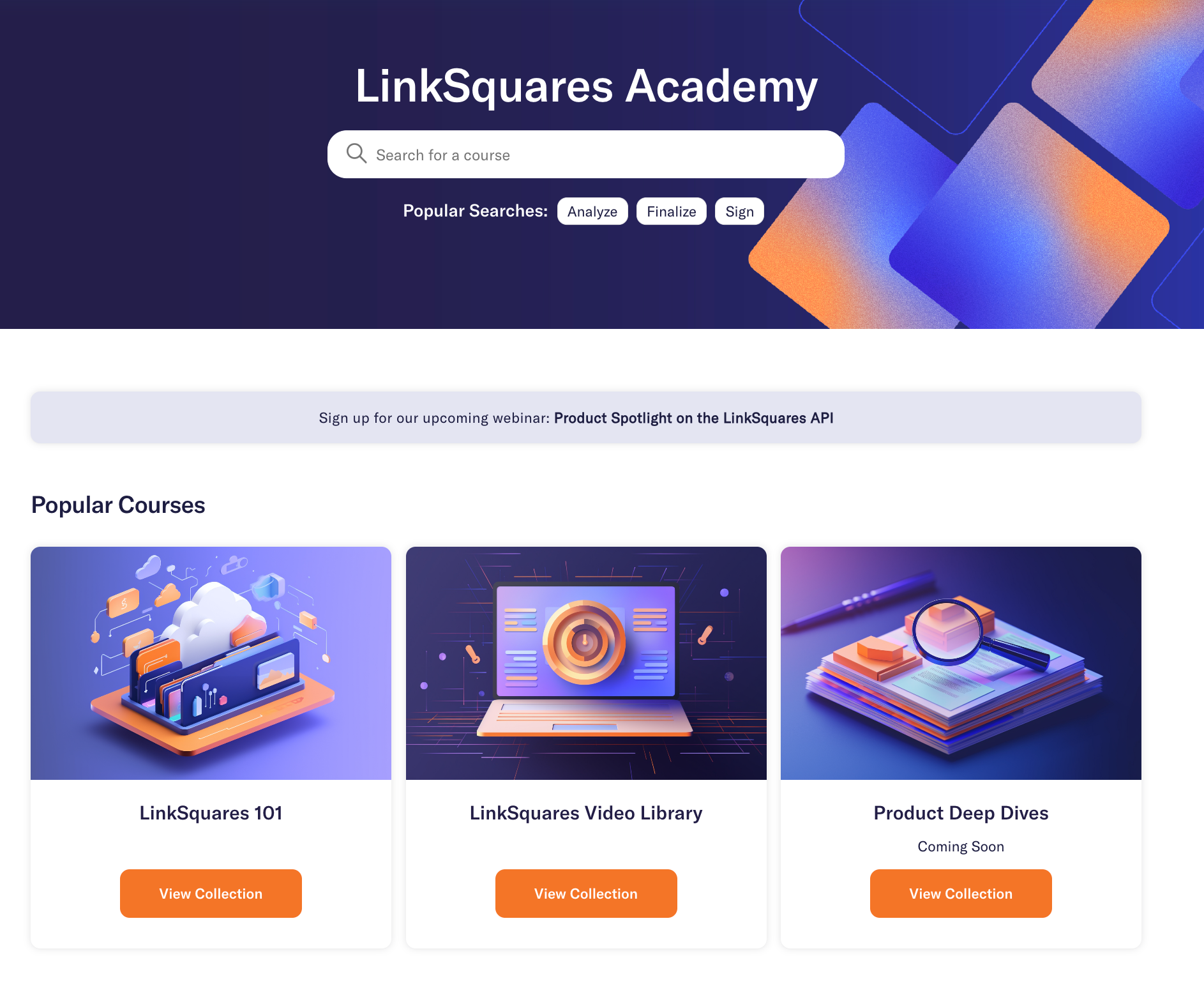 Check out the LinkSquares Academy today!
Note: you must be logged into your LinkSquares account to access the academy.
Join us for our upcoming November webinars:
Product Spotlight Webinar: The Latest and Greatest in LinkSquares Finalize
Tuesday, Nov. 14 at 1:00 p.m. ET
LinkSquares Finalize has come a long way this year. With recent enhancements to Templates, Tasks, integrations, and more, Finalize is truly a contract creation powerhouse.
In this special spotlight webinar, come see how you can use Finalize to scale and automate contract creation at your organization. With LinkSquares Finalize, confidently take your contracts from creation to signature, all with one tool.
Don't miss out. Save your spot today!
Building a Project Management Process that Actually Works: How the LinkSquares Legal Team uses Prioritize
Thursday, Nov. 16 at 12:00 p.m. ET
Join us as we dig into how the LinkSquares legal team has built and implemented a project management process to cut out manual work, save time, and get more done. See how the team uses Prioritize to intake requests from across the business, manage recurring tasks, and tackle large-scale projects and initiatives with a project management tool built for legal.

Plus, get an inside look at what's new and coming in LinkSquares Prioritize!
Looking for some productivity inspiration? Register today!
Subscribe to the LinkSquares Release Roundup
Get the most out of your CLM and stay up to date on new product features and enhancements to the LinkSquares platform.